Multi Skills Entry 3
Start Date: 2nd September 2024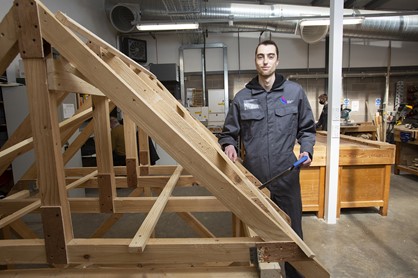 Length 35 Weeks
Study Full Time
Location West Lancashire College
Qualification Gained
Entry Level Extended Certificate in Construction Skills.
More about the course
For students interested in working in the construction industry, but do not know which trade area to specialise in, our Entry Level 3 qualification in Construction Skills is the perfect opportunity to develop practical skills needed by some employers in the industry, whilst giving you a taster of a variety of trades before choosing to progress into further learning in a specific trade.
Entry requirements
3 Grades: 2-9 in Maths, English and 1 more
What will I achieve?
If you successfully complete this course, you will receive a Entry Level Extended Certificate in Construction Skills.
What will I learn?
Introduction to health and safety in construction
Introduction to the construction industry
Constructing halving joints
Constructing housing joints
Constructing cavity walls in brickwork and block work
Mixing and using concrete
Bending and jointing copper pipes
Working with low carbon steel pipes and fittings
What experience will I have?
Additional Maths and English sessions
Tutorial and personal development
Enrichment
Independent study
Work-related activities
How will I be assessed?
Practical assessments
End unit tests
Where can I progress?
Further learning
Training in the Construction sector
Pre-Apprenticeship programme
A traineeship
Bricklaying Level 1
Carpentry and Joinery Level 1
Plumbing Level 1
Course costs
If you are 16-18 years old, you do not have to pay course tuition fees*
If you are 19 or over, please speak with our Learner Services team to confirm the fee for this course. Course costs may be subject to change. 
If you need information on any financial support that may be available to you with fees or study costs on this course, please contact Student Services who can offer advice and assistance on accessing any financial support that may be available.
*Exam and registration fees will be paid for by the college. This is subject to satisfactory attendance and course completion.