Apprenticeships
Would you like to become an Apprentice with West Lancashire College?
Our Apprenticeship team has lots of experience and can offer a range of support to help you secure an Apprenticeship opportunity including, career matching using Careers Coach, a vacancy matching service, CV and application support service, plus interview techniques.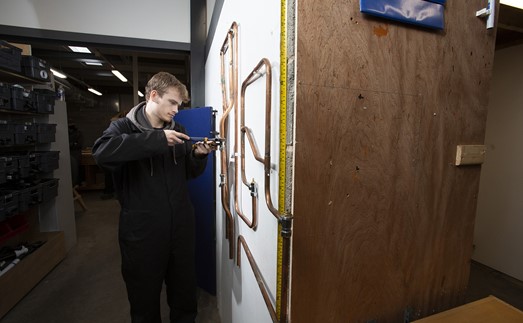 What if I already have a job?
Did you know that Apprenticeship training is for existing employees and is not restricted to new hires? Apprenticeships are open to employees of all ages, as long as they are employed for 30 hours or more per week.
The Apprenticeship training that West Lancashire College offer lasts between 1 to 4 years (depending on the standard), with employees being employed for a minimum of 30 hours per week. The individual and organisation must commit to off the job training which usually consists of one day per week. 
We offer a range of Apprenticeship Standards that have been created by leading employers so that you can be certain that the training will meet and exceed professional industry standards. 
Explore our Apprenticeships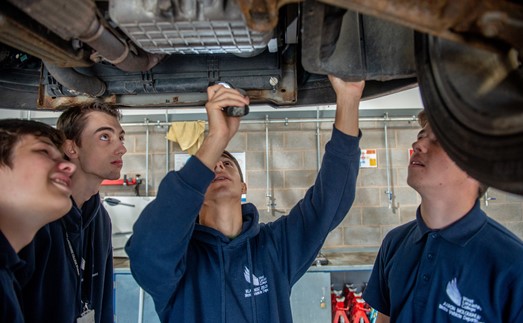 As a West Lancashire College Apprentice, you will...
Learn on the job, building up your knowledge, skill set and earn money at the same time

Receive a salary, paid holidays and opportunities to progress in your career

Be visited regularly in the workplace by one of our experienced trainers and assessors

Attend college for off-the-job training: 4 days working on the job and 1 day release in college, which is paid for by your employer

Improve your Maths and English skills if needed
Read about our CEIAG offer
Frequently asked questions
How much are Apprentices paid?
The minimum wage for an Apprenticeship currently stands at £4.81 per hour. However, as your course progresses, many UK employers tend to increase the wages in line with Apprentice's developing skills and industry specific knowledge.
How do I find an Apprenticeship?
All West Lancashire College Apprenticeship vacancies will be advertised on The National Apprenticeship Service, as well as our own website. 
If you are currently in Year 11, you will only be enrolled onto an Apprenticeship once you have received your GCSE results. Once you are 16, you can find an employer and begin working with them to gain experience. 
What information should I include in my CV?
Many employers will ask you to respond to an advertisement for a job with a CV and covering letter, instead of an application form. A CV is useful when make a speculative approach to an employer. 
Your CV needs to include:
Name and contact details
Skills and strengths
Education, starting with the most recent
Exams, list all that you have taken and the grades
Work experience such as weekend work, a holiday job, as well as any undertaken at school
Interests and hobbies 
References from school/college or a character reference
What levels of Apprenticeship are there?
Apprenticeships start from Level 2 (Intermediate) and go all the way up to Level 6 and 7 (Degree Level). You will usually start on a Level 2 or 3 Apprenticeship, with the opportunity to progress to higher levels.
What qualifications do I need to do an Apprenticeship?
Desired qualifications to start on an Apprenticeship would be Grade C/4 or above in Maths and English. 
If you don't have these, it is not essential for all apprenticeships. You will be given the opportunity to upskill your Maths and English if needed. 
How many hours are included in an Apprenticeship?
Minimum hours on an Apprenticeship is 30 a week, but the average apprentice will carry out 37-40 hours per week, depending on your contract with the company.
Do I need to come to college on an Apprenticeship?
Most of the apprenticeships that we offer, include one paid day release at college a week.
What are the steps to applying?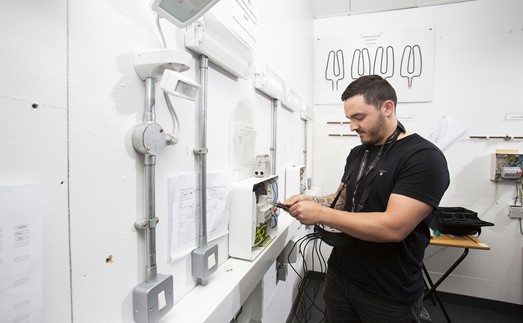 Learn more about CITB
CITB registered companies enrolling on Carpentry and Joinery, or Brickwork apprenticeships can access further support in the form of apprenticeship grants. There are two available grants for apprenticeships, these are:
Attendance grant: £2500 for each year your apprentice is in training, this is paid in instalments every 13 weeks.
Achievement grant: £3500 on successful completion of the apprenticeship.
CITB have also recognised that the recruitment and enrolment process can be difficult to navigate for smaller companies and this has led to the introduction of further support. There is now have a dedicated new entrant employer support advisor, who can help you through the whole process, including: -
Help with setting up an Apprenticeship Account and support to access apprenticeship funding
Support to register with CITB and applications for the apprenticeship grants
Support with advertising and recruiting an apprentice
Mentoring Training on request
Staying connected to make sure they have the support they need to help an apprentice