Electric Vehicle/Hybrid Level 2
Start Date: 22nd November 2023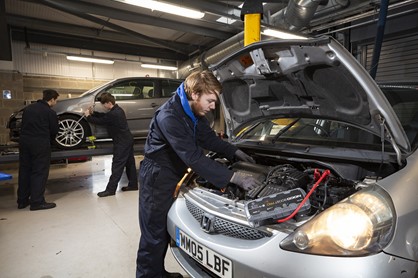 Length 6 Weeks
Study Part Time
Location West Lancashire College
Price £99
Qualification Gained
Level 2 award in Electric/Hybrid Vehicle Routine Maintenance Activities
More about the course
This course has been designed to give students the knowledge and skills required to work safely on Electric/Hybrid vehicles whilst carrying out routine maintenance and repair activities (not voltage components or systems). This may include vehicles that may have or had damage to their high energy/electrical system.
This award sized qualification offers an introduction to this specialised industry sector which in addition to complimenting their current industry qualifications and experience, will enable them to continue to work safely within their role.
Entry requirements
Students must have completed Electric Vehicle/Hybrid Level 1 or have experience in the Motor Vehicle trade
What will I achieve?
If you successfully complete this course, you will receive a Level 2 award in Electric/Hybrid Vehicle Routine Maintenance Activities
What will I learn?
Electric/hybrid vehicle system components and operation
Hazards surrounding electric/hybrid vehicles
How to reduce the risks to yourself and others when working on electric/hybrid vehicles
Safely preparing the vehicle when carrying routine maintenance (NOT high voltage components or systems)
How am I assessed?
Portfolio 
Online assessment
Practical safety assessment
Where can I progress?
Upon successful completion of the course, students may wish to progress onto Electric Vehicle/Hybrid Level 3.
Course costs
This course is £99. However, this course may be free if you are on an income related benefit or a low income.
If you are 19 or over, please call Learner Services on 01695 52300 or email enquiries@westlancs.ac.uk to confirm the fee for this course. Course costs may be subject to change. 
If you need information on any financial support that may be available to you with fees or study costs on this course, please contact Student Services who can offer advice and assistance on accessing any financial support that may be available.
*This is subject to availability and eligibility
Adult Funding Changes
Due to changes in Government funding from 1st August 2019, students who resident in some postcodes in Merseyside and Greater Manchester may be unable to access funding from training providers and colleges in Lancashire and may have to pay all associated course and support costs. 

Please note, this does not include courses that are paid for by Advanced Learner Loans.

To check if your postcode is part of the new devolved funding legislation, please contact Course Enquiries on 01695 52300 for further advice.