Understanding Nutrition and Health Level 2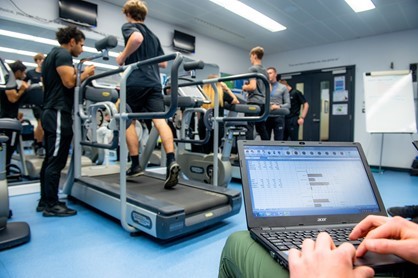 Length 12 Weeks
Study Online Learning
Location Online
Qualification Gained
Level 2 certificate in Understanding Nutrition and Health NCFE Cache
More about the course
Whether you work in the healthcare or fitness industry and want to enhance your knowledge, or you want to make some lifestyle changes yourself, our Level 2 Certificate in Understanding Nutrition and Health is perfect for you.
This fully online course will teach you about the role food and exercise play in maintaining health, and what the information on food labelling really means and how to use it correctly. It also covers the different diets that children and older people need to make sure they are fit and strong, as well as what can cause eating disorders and how to manage them.
You'll gain insight into creating a diet and exercise plan that's tailored to each individual's needs, and understand how to manage food hygiene to achieve maximum results
Entry requirements
GCSEs at Grade A*-D (Grade 3-9)
or
What will I achieve?
If you successfully complete this course, you will receive a Level 2 certificate in Understanding Nutrition and Health NCFE Cache
What will I learn?
Explore principles of healthy eating

Consider nutritional needs of a variety of individuals

Use food and nutrition information to plan a healthy diet

The principles of weight management

Understanding eating disorders
Where can I progress?
Level 2 Certificate in Common Health Conditions

Level 2 Certificate in Understanding the Care and Management of Diabetes
Course costs
This course is free if you are on an income related benefit, or you are on a low income (a household income of less than £20,817 or an independent income of £12,400). 
If you are 19 and over, please call our Student Services team to confirm the fee for this course. Course costs may be subject to change. 
If you require information on any financial support that may be available to you with fees or study costs on this course, please contact Student Services who will be able to offer advice and assistance on accessing any financial support that may be available. 
Adult Funding Changes
Due to the changes in Government funding from the 1st of August 2019, students who resident in postcodes within Merseyside and Greater Manchester may be unable to access funding from training providers and colleges in Lancashire. You may have to pay all associated course and support costs. 
To check if your postcode is part of the new devolved funding legislation, please contact our Course Enquiries team for further future.