Engineering Technician Level 3 Apprenticeship
Start Date: 2nd September 2024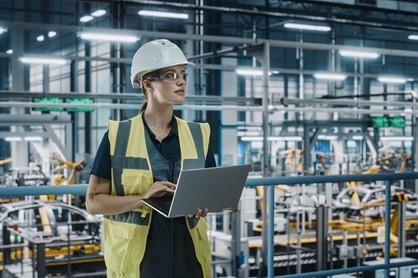 Length 3 and a half years
Study Full Time
Location West Lancashire College
More about the course
This apprenticeship can lead into the following pathways – machinist, mechatronics, or technical support. It is aimed at people working at technician level in an engineering company. You will have the opportunity to combine, on-the-job training, with study in a college environment.
You will start by learning the basics across several different areas. For two days per week for the first year and 1 day per week for years 2 and 3, you will attend college where you will be taught the technical knowledge needed to complete your apprenticeship. You will also work in our engineering workshops and labs to develop new skills.
Depending on the company that you work for, your apprenticeship will cover several different disciplines such as turning, milling in the machine shop, CAD or CAM, CNC machining, mechanical or electrical maintenance engineer, multi skilled engineer, technical support engineer.
Entry requirements
Employment within the sector with a contract of employment for at least 30 hours per week
4 GCSEs at Grade 4-9, including English and Maths
Satisfactory completion of the college initial assessment
What will I achieve?
Level 2 Diploma in Advanced Manufacturing Engineering (Foundation Competence)
Level 3 Diploma in Advanced Manufacturing Engineering (Development Competence) – Pathway dependent
Level 3 Diploma in Advanced Manufacturing Engineering (Development Knowledge)
What will I learn?
Understand mathematical techniques, formula and calculations used in a technical support environment
Understand the methods and techniques used to evaluate technical data and documentation
Understand how to identify that the data and documentation being used is current and up to date
Understand the procedure to be used for making changes to issued documentation
Understand where and how to source other areas of technical expertise/information to help solve technical problems
Understand the requirements of the customer (internal/external) and support using the appropriate tools, equipment and processes
Produce technical documentation that contains all the relevant and necessary data
and information required for the technical support activity being carried out
Present the technical documentation in the required format
ensure that codes, symbols and other references used in the technical
documentation follows agreed UK/international conventions
Save and store technical documentation in the correct format, location in accordance with organisational and/or customer requirements
Make any changes/amendments to the technical documentation using agreed quality
Assurance control procedures
Sevelop effective business and/or customer relationships
Provide technical advice and guidance to others
Contribute to the business by identifying possible opportunities for improving working practices, processes and/or procedures
How am I assessed?
Observation of practical work
Theory work
Work related project
End point assessment (EPA) - The end-point assessment will consist of two main components - a portfolio of evidence supported by a professional discussion that will explore specific knowledge, skills and behaviours
Exam
Where can I progress?
On completion of the apprenticeship the apprentice will have satisfied the requirements for registration as an Engineering Technician by the relevant professional engineering institution in accordance with the requirements of the Engineering Council as the registration body.

Subject to suitable completion of this apprenticeship, you could progress onto a further Level 4 HNC/ level 5 HND
Course costs
This is funded by employer, please contact the team for further details