Bricklaying Level 2
Start Date: 2nd September 2024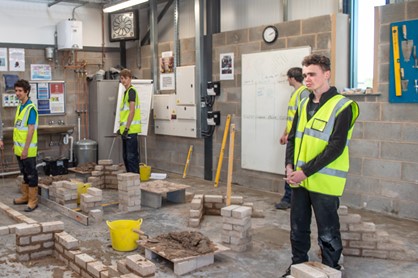 Length 1 Year
Study Full Time
Location West Lancashire College
Qualification Gained
Level 2 Qualification in Bricklaying
More about the course
Those studying Bricklaying will learn a variety of skills to enable them to build, repair and maintain the country's housing stock. Our qualifications are aimed at people wishing to learn some skills in bricklaying, to progress on to becoming skilled in their chosen trade, or to progress through an apprenticeship and work towards becoming a master craftsman.
Entry requirements
Bricklaying Level 1 qualification
What will I achieve?
If you successfully complete this course, you will gain a Level 2 in Bricklaying, a Level 1 or 2 in Functional Skills or a GCSE in Maths and English.
What will I learn?
Health, safety and welfare in construction
Principles of building construction, information and communication
Interpreting work drawings to set out masonry structures
Producing thin joint masonry and masonry cladding
Build solid walling, isolated and attached piers
Construct cavity walling forming masonry structures
How am I assessed?
Assessment is an online core unit examination
Awarding body phase test
Portfolio of knowledge
Where can I progress?
If you successfully complete this course, you can go onto employment within the Construction industry or alternatively, an Apprenticeship
Course costs
If you are 16-18 years old, you do not have to pay course tuition fees*
If you are 19 or over, please speak to Learner Services to confirm the fee for this course. Course costs may be subject to change. 
If you need information on any financial support that may be available to you with fees or study costs on this course, please contact Student Services who can offer advice and assistance on accessing any financial support that may be available.
*Exam and registration fees will be paid for by the college. This is subject to satisfactory attendance and course completion.