Art and Design Level 3
Start Date: 2nd September 2024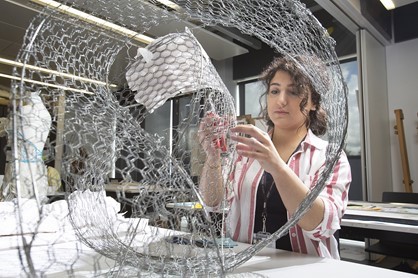 Length 2 Years
Study Full Time
Location West Lancashire College
Qualification Gained
Extended Diploma in Art and Design
More about the course
This course is ideal for anyone who wishes to gain a vocational qualification in Art and Design, as a step towards a career in the industry or a university application.
The initial term will introduce you to working in professional art and design studios, this will include working in 2D, 3D and digitally with Apple Mac computers. You will also have the opportunity to work in a photographic darkroom and fully equipped studio.
From that point forward, we will tailor your course to match your career goal, enabling you to work with negotiated briefs which will develop your specialist art skills and prepare you for university study.
Entry requirements
4 GCSEs at Grade 4-9, including English and/or Maths
What will I achieve?
If you successfully complete this course, you will receive an extended diploma in Art and Design. This is equivalent to three A Levels. 
Students can also obtain function skills or a GCSE English if required.
What will I learn?
Drawing and painting
Fashion and textiles
Fine art
3D design and sculpture
Computers and digital photography
Print making
During the second year of the course, students are able to specialise in their chosen subject area for university/employment.
Students will undertake a period of work experience appropriate to your course, as part of the programme of study.
What experience will I have?
Specialist facilities, including two fully equipped Apple Mac suites, a large traditional Art Studio that caters for 2D and Textiles/Fashion sessions, a 3D art studio, as well a photographic dark room and a photography studio
Arts Council England Projects, including Illume, as well as photographic and sound art projects
Brutalist Art Project, including concrete relief sculptures
Educational trips, including residential stays in major cities such as Paris and London. Students will also visit UK galleries: Liverpool Tate, The Walker Gallery, The Lowry, the National Media Museum in Bradford, The Chapel Gallery and the Lady Lever Art Gallery
Entrepreneurial and work based activities 
End of year Creative Arts Exhibition
How am I assessed?
Coursework produced in the art studios
Where can I progress?
Upon successful competition of Level 3 course, students may wish to progress to Higher Education studies at university or to gain employment in the Art and Design industry.
Course costs
This course is free, if you are on an income related benefit or a low income, with a household income of less than £20,817 or an independent income of £12,400.
If you are 19 or over, please call Learner Services on 01695 52300 or email enquiries@westlancs.ac.uk to confirm the fee for this course. Course costs may be subject to change. 
If you need information on any financial support that may be available to you with fees or study costs on this course, please contact Student Services who can offer advice and assistance on accessing any financial support that may be available.
*This is subject to availability and eligibility
Adult Funding Changes
Due to changes in Government funding from 1st August 2019, students who resident in some postcodes in Merseyside and Greater Manchester may be unable to access funding from training providers and colleges in Lancashire and may have to pay all associated course and support costs. 

Please note, this does not include courses that are paid for by Advanced Learner Loans.

To check if your postcode is part of the new devolved funding legislation, please contact Course Enquiries on 01695 52300 for further advice.