The School of Medicine
Start Date: 2nd September 2024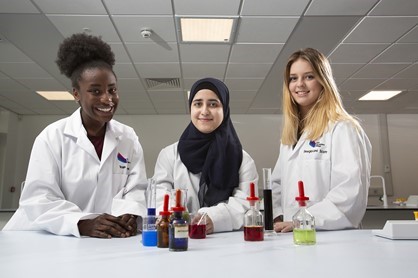 Length 2 Years
Study Full Time
Location West Lancashire College
More about the course
The School of Medicine is the very first of its kind and offers a unique learning experience in a variety of roles in the medical sector. Born from a collaboration between leading industry employers and the UK's top university medical schools, this two-year programme is designed to give West Lancashire College students a distinct advantage over the competition.
This exceptional programme offers hours of exclusive placement opportunities on our Discovery Industry Placement Programme within the NHS, Virgin Care and the West Lancashire Clinical Commissioning Group. Students will receive hands-on clinical and surgical experience, follow a patient's journey from GP reception to diagnosis to treatment, as well as undertake exclusive workplace and educational visits that cannot be found anywhere else in the country.
Entry requirements
Biology
5 GCSEs at Grade 5 and above
Double Award GCSE Science Higher Tier Grade 6 or above
GCSE Biology Grade 5 or above
GCSE Maths Grade 5 or above
GCSE English Grade 5 or above
Chemistry
5 GCSEs at Grade 5 and above
Double Award GCSE Science Higher Tier Grade 6 or above
GCSE Chemistry Grade 5 or above
GCSE Maths Grade 5 or above
GCSE English Grade 5 or above
Maths
5 GCSEs at Grade 5 and above
GCSE Maths Grade 6 or above
Psychology
5 GCSEs at Grade 5 and above
GCSE Maths Grade 5 or above
Sociology
5 GCSEs at Grade 5 and above
Criminology
5 GCSEs at Grade 5 and above
What will I learn?
A Level Psychology
A Level Biology
A Level Chemistry
A Level Physics
A Level Maths
How am I assessed?
End of unit tests
Practical sessions
Workshops
Discussions
External visits
Mock examinations
Where can I progress?
Criminology
This qualification will give you the required understanding and skills to be able to consider employment in some areas of the criminal justice system, e.g. the National Probation Service, the police or the Courts and Tribunals Service. However these are just some of the possibilities
Biology
Biology is an essential subject if you are interested in a career with a medical or bio-medical bias e.g. medicine, dentistry, veterinary science, nursing, pharmacy, physiotherapy, forensic science, or biochemistry. It is also an important and useful subject for anyone interested in careers in conservation, biotechnology, sports science and psychology. In addition there are a large number of biology related university degree courses e.g. Marine Biology, Microbiology, Zoology.
Chemistry
Chemistry is recognised by many employers as a subject that allows students to develop their problem-solving skills through an analytical and logical approach – vital skills in any workforce. The staff in the Department of Chemistry are committed to helping students develop their knowledge and interest in the subject, preparing the way for potential careers in many areas: Manufacturing, Forensic Science, Pharmacy, Pharmacology, Nursing, Cosmetics, Medicine, Dentistry, Sports Science, Pharmaceutical Design, Brewing, Petrochemicals, Environmental Sciences, Finance, Media, Sales & Marketing, Health & Safety, Law, Consultancy, IT and Education.
Psychology
Psychology is very useful in any career that involves working with people, e.g. in social care, policing, or teaching. Many students continue to study Psychology at university which can lead to a variety of careers including clinical, educational, sport or forensic psychology.
Maths
Students with A level Mathematics have excellent study and career opportunities. The qualification is very highly regarded for a broad range of university courses and is highly valued by employers. Many students will progress to mathematics degrees or engineering and science-based courses including medicine. Future opportunities include training as an accountant or an economist.
Sociology
Sociology is an excellent course to study for a wide range of careers. Universities welcome applicants who have studied Sociology as they have developed an awareness and understanding of the processes within modern British society. Studying Sociology can lead to careers in journalism, education, social care, health, police, armed forces, business, law, the media and politics.
Course costs
If you are 16-18 years old, you do not have to pay course tuition fees*.

If you need information on any financial support that may be available to you with fees or study costs on this course, please contact Student Services who can offer advice and assistance on accessing any financial support that may be available.
*This is subject to attendance.